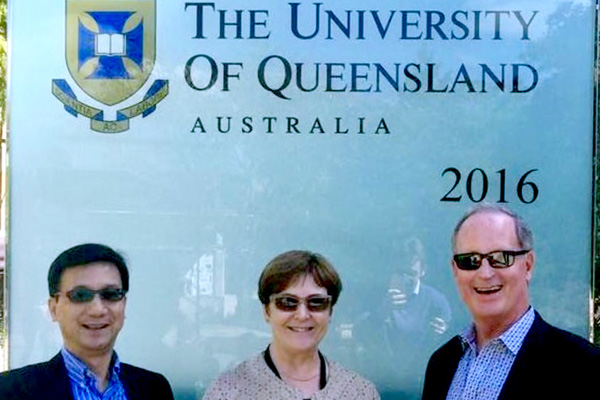 Photo: New FCMG Industrial Research Chair, UQ Professor Suzanne Hurter (middle), with FCMG President Duke Anderson (right), and VP Technology Andrew Seto (left)
CALGARY & BRISBANE — Suzanne Hurter, Professor of the School of Earth and Environmental Sciences, University of Queensland has been appointed as the inaugural Foundation CMG Industrial Research Chair in Onshore Gas Reservoir Modelling.
Ranked among the top 60 universities in the world, the University of Queensland was established in 1909, and is top 2 in research output in Australia.  Through the Centre for Coal Seam Gas (CCSG) at the University, Professor Hurter will collaborate with 4 major gas companies operating in Queensland, namely, Queensland Gas Company, Santos, Australia Pacific LNG and Arrow Energy, to research ways to effectively explore and develop the vast coal seam gas (CSG) resources in Australia, with more than 40 Tcf of proved plus probable CSG reserves.  The country is the first in the world to produce CSG to LNG.
"Foundation CMG decided to initiate a Research Chair at the University of Queensland because of their highly functional organization and the gas/NGL development infrastructure in the region.  Their collaboration with the industry, government and other stakeholders to work towards unlocking the vast coal seam gas resources in Australia should bring tremendous social and economic benefits to the country."
Duke Anderson, President Foundation CMG
With Foundation CMG's CAD 1.25-million contribution, spread over 5 years, and multiples of matching funds from the industry, government and university, the new Chair research program will focus on understanding the CSG reservoir characteristics, gas recovery mechanism and environmental impact from resource development.  The team will involve about 50 people by Year 5, including 36 graduate students and other research, teaching and administrative staff members.
About Foundation CMG
Foundation CMG has a mission to 'Promote and Fund University Research in Oil & Gas Reservoir Simulation with Industry Collaboration and Technology Transfer'. Foundation CMG plans to be the catalyst for investment of $700 Million in the training of 5000 graduate students and reservoir simulation research over a period of 25 years. Foundation CMG partners with Government, Industry and Universities to drive unique multi-year support of student education and world leading researchers at universities, in Europe, Asia, South America and North America.