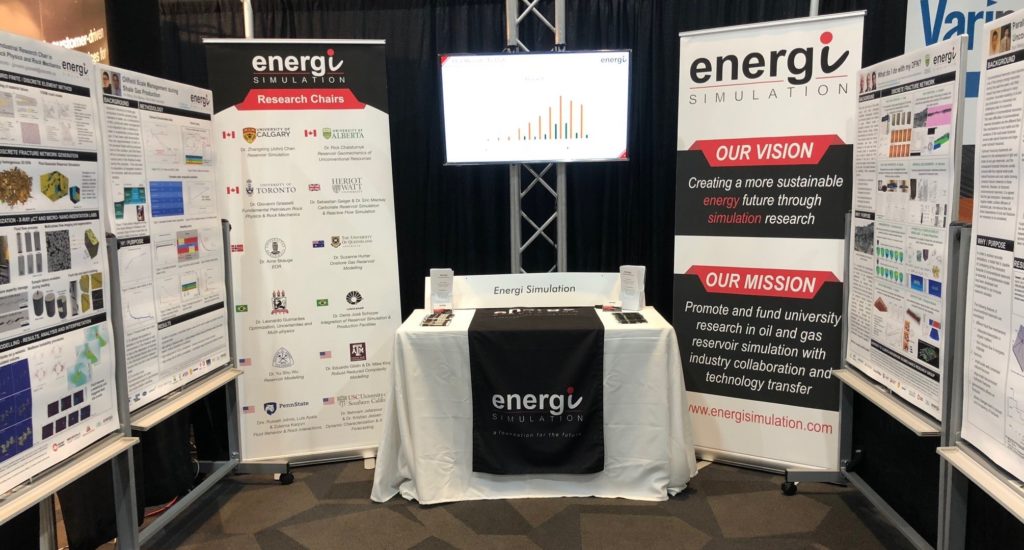 by Andrew Seto, VP Technology of Energi Simulation, March 2018
Energi Simulation hosted an exhibition booth at the SPE Canada Unconventional Resources Conference held in Calgary on March 13-14, 2018, featuring four of our twelve worldwide Research Chair programs.  The four Research Chairs/representatives and their respective programs were:
Dr. Kun Wang, representing Dr. John Chen, University of Calgary – Reservoir Simulation
Dr. Giovanni Grasselli, University of Toronto – Fundamental Petroleum Rock Physics and Rock Mechanics
Dr. Nathan Deisman, representing Dr. Rick Chalaturynyk, University of Alberta – Reservoir Geomechanics of Unconventional Resources
Dr. Eric Mackay, Heriot-Watt University – Reactive Flow Simulation
Among the many visitors at the Energi Simulation booth, many were curious as to who we are, what we do, why and how we are providing research funding without having to raise capital.  It was indeed refreshing for some visitors to learn about our history, vision, mission, and our research chair programs that aim to benefit the researchers, industry and society.
The Conference was a tremendous one-of-a-kind opportunity in Canada this year for four of Energi Simulation Research Chairs/representives to showcase their expertise in the unconventional resources arena.  Many visitors were interested in the hydraulic fracturing and wellbore scaling research programs related to tight oil and gas resource development.  There are many challenges in unconventional resource development and operations that would require research efforts to help optimize the economic recovery of these vast resources.  With their technical expertise, research teams, and supporting infrastructure (laboratory equipment, high-speed parallel computers, etc.) at the universities, our Research Chairs are well-positioned to address some of the challenging issues.  We look forward to seeing their results at our annual Energi Simulation Summit and in public literature.