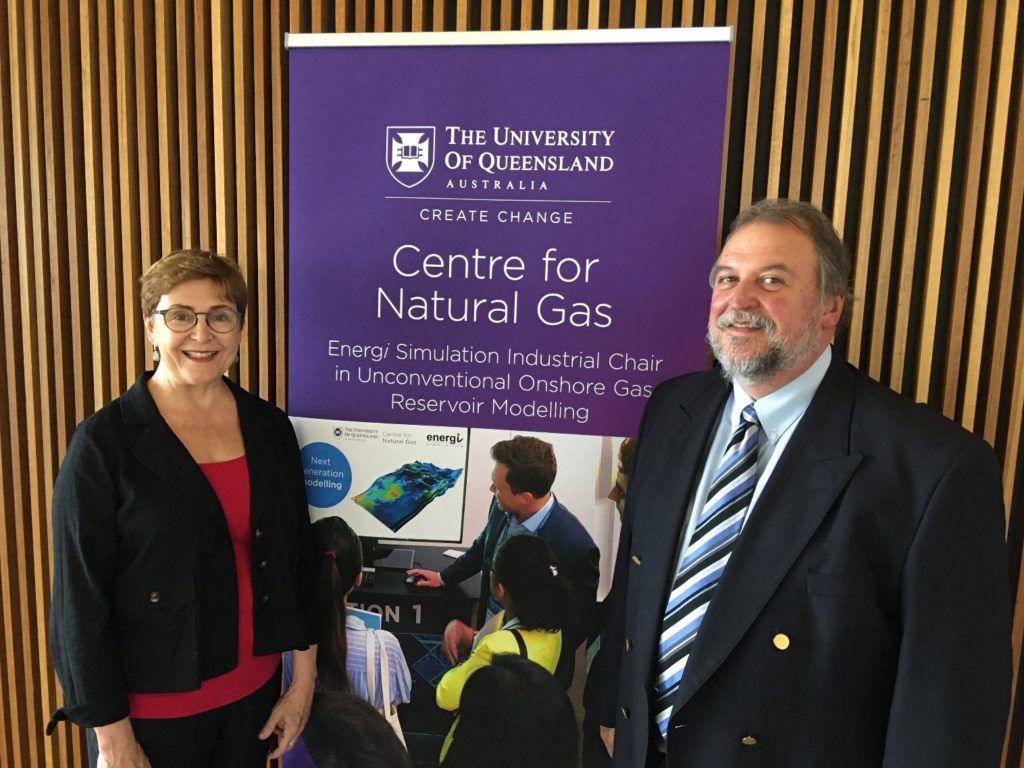 Published: April 7, 2020
Energi Simulation and The University of Queensland (UQ) are set to expand the reach of its Energi Simulation Chair program, this month announcing that it has formed a new strategic relationship with leading Dutch research organisation, TNO. It is also broadening the scope of the modelling and simulation focussed Chair, appointing a co-chair with gas reservoir stimulation expertise to the program.
The current Chair, Professor Suzanne Hurter, will have a foot in both camps, continuing on part-time with the UQ Centre for Natural Gas and taking on a new part-time position with TNO. The UQ Energi Simulation Chair position will be shared, with UQ appointing Professor Ray Johnson as co-chair of the Energi Simulation onshore gas reservoir modelling program which operates out of the UQ Centre for Natural Gas.
Professor Hurter says the move brings a complementary set of skills to the role. "Prof Johnson brings several decades of experience in enhancing production of unconventional reservoirs. He has also been the Chair in Well Engineering and Production Technology with the UQ Centre for Natural Gas since 2017," she says.
"This experience will be valuable in delivering the Chair's aim of growing and broadening UQ's research program within petroleum geoscience and engineering and to improve models for sustainable, onshore gas production at a reduced cost."
Both Professor Hurter and Professor Johnson employ modelling and simulation to attain this goal. They have a long track record of working collaboratively through the UQ Centre for Natural Gas, already sharing supervision of PhD students and collaborating on several research projects.
Duke Anderson, president of Energi Simulation says… "Energi Simulation initiated a Research Chair at The University of Queensland because of their highly functional organisation and the gas/LNG (liquefied natural gas) development infrastructure in the region. Their collaboration with the industry, government and other stakeholders to work towards unlocking the vast coal seam gas resources in Australia should bring tremendous social and economic benefits to the country."
Director of the UQ Centre for Natural Gas, Professor Andrew Garnett, says that the move allows UQ to retain Professor Hurter's expertise, while facilitating the collaboration with TNO. Professor Hurter's role at TNO is a synergistic one, focussed on work on the energy transition. This will include technologies for a lower carbon future and sustainable energy supply, such as carbon capture and storage and carbon neutral fuels and feedstocks, for example hydrogen.
"This could even bring about additional potential collaborations – there are many potential synergies to be explored in the sustainable energy space," says Professor Garnett.
Professor Johnson will be working from the office of the UQ Centre for Natural Gas based at UQ's St Lucia campus in Brisbane, Australia. Professor Hurter will work between Utrecht in the Netherlands and St Lucia.
*This picture was taken prior to the COVID-19 social distancing*