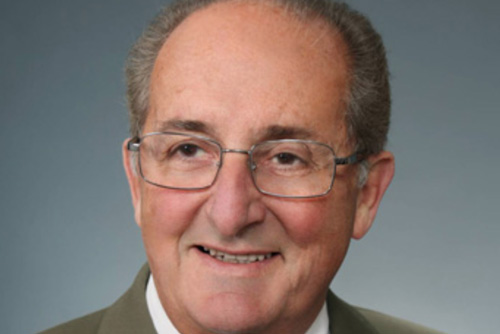 Frank Meyer is the recipient of the 2011 Canadian Engineering Leader Award from the Schulich School of Engineering. Photo by Stephanie Leblond
Faculty, staff, students, donors and supporters of the Schulich School of Engineering gathered Dec. 1 for the 2011 Dean's Holiday Reception and recognition of leaders in engineering.
"Every single day I encounter something that is noteworthy: an ambitious student, an original piece of research or a visionary company," says Guy Gendron, dean of the Schulich School of Engineering. "I see with my own eyes why Calgary is known around the world for its engineering leadership."
Frank Meyer is the 2011 recipient of the Canadian Engineering Leader Award. He was the first president and CEO of Foundation CMG, which became Computer Modelling Group Ltd. (CMG), one of the world's largest providers of reservoir simulation software and advanced processes modeling.
Under his leadership, Foundation CMG created two research chairs at the university in collaboration with Alberta Innovates – Technology Futures and the Natural Sciences and Engineering Research Council of Canada (NSERC).