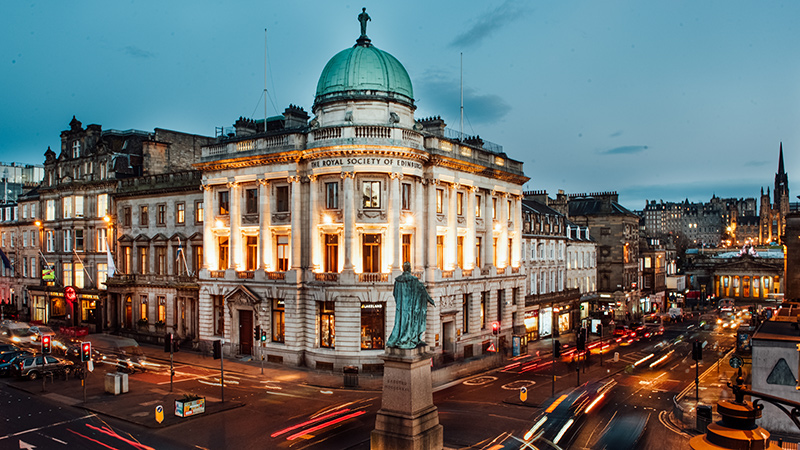 Published: March 3, 2020
Professor Sebastian Geiger, Energi Simulation Industrial Research Chair in Carbonate Reservoir Simulation and Director of the Institute of Geoenergy Engineering, was named a Fellow of the Royal Society of Edinburgh (RSE) .
RSE Fellows comprise leading thinkers and experts from Scotland and around the world whose work has a significant impact on the nation.
Professor Geiger is one of 64 new fellows and joins the current roll of around 1600.
Fellows are nominated and invited to join after a rigorous assessment of their achievements, professional standing and societal contribution.
Professor Sebastian Geiger said: "I am very humbled to have been elected to this prestigious society, which not only has been home to some of the most renowned scientists and figures of our time (e.g. Benjamin Franklin, James Watt or James Clerk Maxwell), but also does a fantastic job in promoting more diversity in science."
"I am nowhere near a Maxwell or Watt, or any of the Noble Prize winners who are fellows of the society – but needless to say that without Energi Simulation, I would not have gotten there in the first place!"
"I look forward to developing new networks with other RSE fellows to accelerate finding innovative solutions for a low-carbon energy future."
Professor Richard A. Williams, Principal & Vice-Chancellor of Heriot-Watt, and also an RSE Fellow, said "Professor Geiger embodies Heriot-Watt's spirit of innovation and our mission to create and exchange knowledge that benefits society."
"Our whole community congratulates him on his election to the RSE."
Professor Dame Anne Glover, president of the RSE said: "The diverse expertise and experience of our fellows means that, as an organisation, we are well-placed to respond to the issues of the day with clear, informed thinking free from commercial or political influence."
"Our new fellows, who we look forward to welcoming, not only hold vast knowledge but also deep experience, keen judgement, boundless enthusiasm and a passion for promoting societal development and change."
"By using their talents as a collective, we can often unlock or inspire new potential and unearth fresh solutions to some of the most complex issues Scotland's society faces today."
RSE Fellows play a fundamental role in enabling the RSE to deliver its mission of 'Knowledge Made Useful', contributing to the cultural, economic and social well-being of Scotland and the wider world.
Congratulations Dr. Sebastian Geiger for this outstanding achievement!